eCommerce seasonality and trends at eStoreLabs

Karolina Sikora

How do eCommerce seasonality and trends affect the life of an eCommerce company?
Seasonality in eCommerce refers to the fluctuations in customer purchasing behaviours that occur throughout the year. At eStoreLabs, we have noticed instabilities affecting our industry and the company's life cycle. It proves that our industry is divided into periods, influencing the market and us, the eCommerce agency.
There are times in the year when sales are incredibly low, while others are so busy that we have a hard time keeping up with all the projects: this extra-large amount of work on our shoulders requires extra human resources.
Seasonality affects many business and financial factors in the company: production capacity planning, people and time management, money flow management, and investment decisions... It's crucial to understand it and to make the most of the brand's financial strategy.
Seasonality and trends in eStoreLabs - what did we find out?
When analysing the period 2020–2022, we noticed that the lion's share of our operating revenues is generated in the last 4 months of the year. Sounds incredible! Doesn't it? But this is mainly due to the way businesses and budget planning function in our clients' industries. The second half is spread over the remaining 8 months of the year!
This intense increase in sales (and work) towards the end of the year is largely positive. However, it may also result in potential bottlenecks and capacity shortages. It forces us to be wise and prudent when planning all investments, innovations, and potential expenses. After all, we must ensure business stability and security. This significant drop in sales can cause potential problems! We are left with an overcapacity issue while maintaining a large team - as we still like to keep the best and most expensive specialists on board at a time when work and projects are relatively small. Being faced with this uncertainty and fluctuations in the market is a hard challenge for the finance department and company managers.
How do we deal with these challenges at eStoreLabs?
Over the past few years, we have developed a model of operation/development/planning that makes good use of the annual industry cycles. When we have fewer projects, we focus on development and innovation. We strengthen the team through training; we build our knowledge base and organise and improve internal processes. We are not slowing down, but we are shifting our attention to other areas, and we are actively preparing for the busy season. This applies not only to financial and operational matters! We take care of our own. We strongly believe that the balance between the professional and private lives of our employees is the key to success and quality work. Several initiatives and ideas on how to balance these areas help us prepare for the most intensive work in the last quarter of the year.
We don't stay still!
Another way to manage our seasonality is to diversify the markets in which we operate. In 2021, our main market was Western Europe, with a share of 55%. In 2022, the largest share was still in Western Europe, but surprisingly, only in the first half of the year! Our latest estimates show that Central & Eastern Europe and Latin America will be moving into first place in the second half of 2022. Why? This shift was undoubtedly influenced by the pandemic and, consequently, by the dynamic development of eCommerce in previously less developed markets. Though this is not only our assessment - global trends also confirm these findings. Morgan Stanley Research performed an analysis of the growth of eCommerce retail sales in various regions. They noticed that the greatest growth was recorded in the Latin American market (reaching a similar level as in Western Europe), along with a strong position in Eastern Europe. We can thank these new markets for unexplored opportunities to reach out further afield to key global customers.
How did eCommerce seasonality benefit eStorelabs development?
Our portfolio is becoming more and more diversified. Many new brands joined us, thus helping us to constantly develop and improve our skills and services. Thanks to the experience gained in Europe, we can now provide the highest quality services also in the LATAM and APAC regions, which are developing extremely dynamically. The specificity of these markets is slightly different from that of Europe. Which is a good thing, as every day we see new challenges that help us gain more in-depth knowledge that we are ready to share with our partners.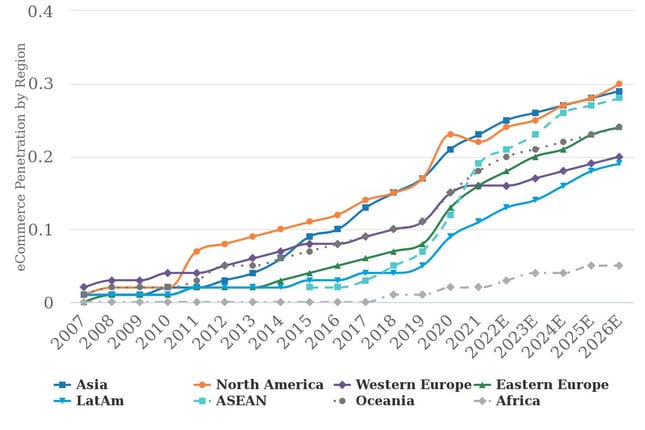 Want to grow with us? Contact us!